All Seat Weaving Supplies are Not Created Equal!
We guarantee Superior Quality Supplies that are worthy of your time and effort!
We provide:

Everything you need to repair or replace your seat weaving project: chair cane, cane webbing, reed, ash splints, fiber rush, seagrass and more.

Complete instructions to make your project easy 1-2-3 and

fun!

No Back Orders. If it's on the site, it's ready to ship. We ship promptly!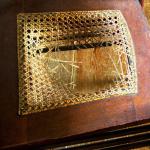 If you're not sure what size or product you need, our Choosing Your Supplies page has recommendations for every kind of chair seat frame.
You'll receive your Sales Receipt and tracking number via e-mail if you provide an accurate e-mail address.
If even the cat won't sit in your chair, it's time to fix it!


Looking for Basket Weaving Supplies? Visit www.BasketWeaving.com
We've been using and selling Seat Weaving Supplies and Basket Weaving Supplies for 33 years.
V. I. Reed & Cane, Inc. 3602 D St., Omaha NE 68107
Our shipping warehouse in Omaha is not open to the public.
Phone Orders: 1 800 852 0025 - 1 402 932 2445 - FAX 562 828 5968
9 AM to 5 PM Central time - Monday through Friday
Customer Service: [email protected] Returns Policy

We do our best to assure that our website and catalog are up to date. However, in the event of typographical errors, the correct price will prevail.
[HOME ] [CHAIR CANE KITS ] [CHAIR CANE] [ BINDER CANE] [CANE WEBBING, KITS and by the Foot] [FIBER RUSH] [SEAGRASS] [REED] [KITTY SPLINE] [TOOLS] [DYES & STAINS] [BOOKS & BOOKLETS] [FOOTSTOOLS] [ASH SPLINTS] [BAMBOO FENCING] [[PLASTIC CANE WEBBING] [SHAKER TAPE] [SEAT WEAVING KITS] [TIPS AND TECHNIQUES] [SUGGESTED LABOR CHARGES] [CHOOSING YOUR SUPPLIES]