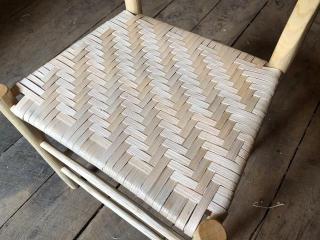 Ash splints make a fine hardwood seat. With proper care, it will last a lifetime, and then some.
If you're not sure what size or product you need, our Choosing Your Supplies page has recommendations for every kind of chair seat frame.
Don't know what to charge for Labor? Visit our Suggested Labor Charges page.
CLICK ON THE ASH SPLINT PHOTOS BELOW for complete description with number of feet included in each coil.
Customer Brian C. wove this seat with 1/2" ash splint in 6' lengths. Pattern is Splint Weave.