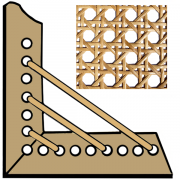 This product is for chairs that have holes around th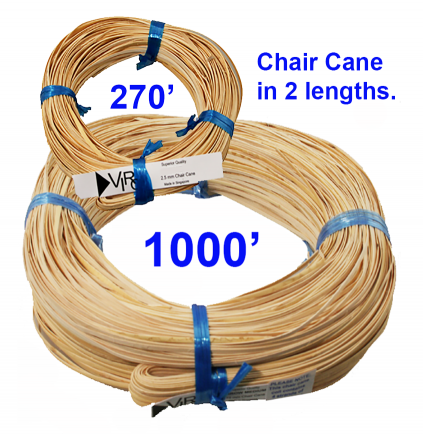 e perimeter of the seat.
THE ITEMS ON THIS PAGE ARE NOT KITS.
We do have easy Kits with everything you need on the CHAIR CANE KITS page.
---
All chair cane comes with Binder Cane strands.
270' coil includes ONE binder. 1000' coil include FOUR binder strands.
---
See the CHAIR CANE CHART below to select correct size chair cane. Scroll down the page to purchase all sizes.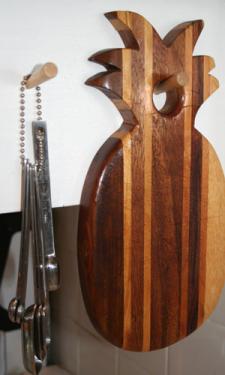 *If your cane chair has a groove around the seat, you need cane webbing.
CLICK HERE to go to our Cane Webbing page.
If you're not sure what size or product you need, we have complete information on selecting your materials.
Our Choosing Your Supplies page has recommendations for every kind of chair seat frame.
CANING PEGS in the Kitchen --- >
How To: Drill a slanted hole with 3/16" drill bit. Tap in caning peg. Beautiful wooden hanging hooks!
Chair Cane sizes

cane width

size of

drilled hole

To determine "distance apart",

Measure "center to center" of drilled holes.

Super Fine

2 mm

1/8"

3/8" center to center


Fine Fine

2.25 mm

3/16"

1/2" center to center


Fine

2.50 mm

3/16"

9/16" center to center


Narrow Medium

2.75 mm

1/4"

5/8" center to center


Medium

3.00 mm

1/4"

3/4" center to center


Common

3.50 mm

5/16"

7/8" center to center