When the Seatweavers Guild posted an image from "laundry basket cars"— a German Korbwagon from the 1920's, we had to search for more. We found this cool page that documents the various wicker-woven vehicles from the turn of the previous century.
I think that if you wove over an old Volkswagon beetle, you'd be guaranteed a place in your town's 4th of July parade forever. That would be a fun project!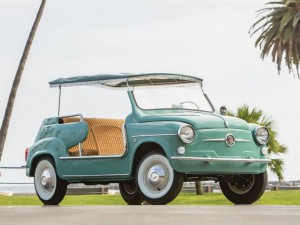 Our favorite is the sweet retro Fiat Jolly.
Click on the image below to learn more about Laundry Basket Cars from messynessychic.com.

Your average household laundry basket and a car– two things you'd never put together, but at the turn of the 19th century, apparently it was all the rage…
An automobile enthusiast site dedicated entirely wood-bodied cars, Old Woodies, suggests that if you delve into transportation history, "one can find the apparent ancestors of these quirky vehicles: wickerwork carriages, sedan-chairs, reed boats, even hot-air balloons." I've also seen a few old photographs of Victorian wicker wheelchairs, which I have a hunch may have had something to do with this too.
A model such as the French 1897 Hugot (pictured above), made entirely of wicker with a 3.5 horsepower stashed under the seat, would have been considered a lightweight, resilient and economical option for early car enthusiasts at the time……