Basket Weaving a Trellis
Last year my husband stuck a few sticks into two of my deck planters and suggested that it would make a cool place for a basket weave trellis. Great idea! A self-supporting trellis.
It came out so great that I'm going to repeat it annually.
Here's how I did mine.
Lay two window boxes end to end. Mine are on the deck.
Stick in 5 upright stick spokes. Mine are 5′ tall peeled bamboo, but you can use any sturdy stick that's about 1/2″ to 5/8″ diameter.
Weave in 5 separate horizontal sticks. Or you could use 2 year old (or older) grapevine. Don't use young green grapevine or it will disintegrate quickly as soon as it's cut.
Plant vinca (sun) or impatiens (shade) at the base of the trellis. Tuck in the seeds of your climbing vines.
I plant hyacinth bean vine a beautiful annual vine that grows 10 ft or more in one season and has brilliant purple blossoms and seed pods that you pick in the fall and save the seeds for next year. I keep mine in a mason jar in the refrigerator so that I don't forget them and they don't get frozen over winter in the garden shed.
Here's a photo from August 1, 2013. I also plant these to grow on our pergola. They're nothing short of spectacular. Everyone wants to know what they are. Later I'll post a photo of the young plants that are already climbing the grey plastic mesh (practically invisible) that I use on the vertical pergola wall. I also plant these in a window box and they make a gray natural shade.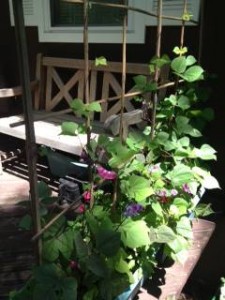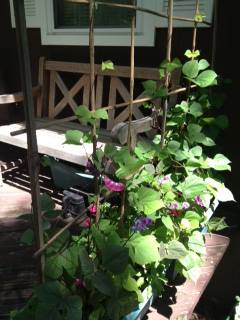 https://www.seatweaving.org/wp-content/uploads/2014/05/basket-weaving-with-sticks-trellis.jpg
320
240
admin
https://www.seatweaving.org/wp-content/uploads/2020/12/seatweaving-supplies-tools.jpg
admin
2014-06-01 01:25:35
2020-12-08 22:05:12
Basket Weaving a Trellis